"My organization had a project that had stalled since 2016. When I completed the three models of the course, I was able to embark on writing this project and it was recently submitted to the Development Committee of the Ministry of Finance, Planning and Economic Development," Mudasi Bosco from the Office of the President shared.
Mr Mudasi was speaking on June 13, 2023 during the post training evaluation workshop for the Public Investment Management (PIM) Centre of Excellence held at the College of Business and Management Sciences where the centre of excellence is housed.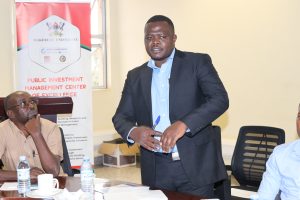 Speaking during the workshop, Ivan Biiza from the Ministry of Water and Environment said the training has changed the way officials in the ministry look at investment projects. They now understand the need for feasibility studies as well as the investment appraisals.
Officials from the Diary Development Authority also said the trainings had greatly impacted their project proposal writing and evaluations.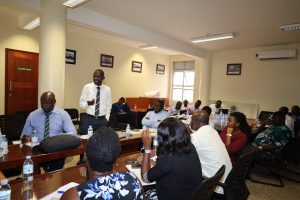 One of the trainers from MoFPED, said the quality of projects submitted to the Development Committee have improved following the capacity building given by the PIM Centre of Excellence. "In 2016, only about 10% of the projects submitted were underpinned by cost –benefit Analysis. With capacity building, this has increased," Mr Ahaisibwe said.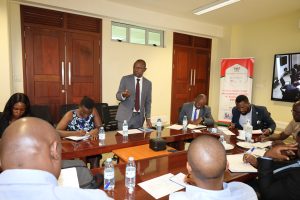 Speaking during the workshop, the Principal of CoBAMS, also Co-PI of the centre, Prof. Eria Hisali appreciated the trainees for dedicating time to the trainings. He informed the members that the college was in the process of drawing a curriculum for the Post graduate Diploma in Public Investment Management and sought to speak to the trainees about their experience and course content. "We want to consult you on what you think should be added to the course or what should be removed," he said.
Prof. Hisali said the Centre was moving towards standardization of the PIM course. This he said would does a job related to PIM meets the criteria.
ABOUT THE CENTRE
The Public Investment Management Center of Excellence, housed at CoBAMS, was established with the main objective of filling the capacity gaps identified in Uganda's Public Investment Management (PIM) Systems during the 2016 Diagnostic study of Uganda's PIM systems.  The Center operates under three major areas of focus; Capacity Building, Advisory and Outreach Services, Institutional Development in addition to Research and Studies.
The Center aims to strengthen Public Investment Management (PIM) as highlighted in the NDP III with emphasis being placed on fortifying the Ugandan PIM system right from Identification, preparation, appraisal, implementation and evaluation of projects. By 2020 the country had about 6 people trained in Program on Investment Appraisal and Risk Analysis who could support the pre -investment analysis agenda due to the exorbitant costs involved. The Center therefore aims at increasing the numbers of personnel trained in PIAR in the Country through delivering trainings to Ministries, Departments and Agencies (MDAs) staff at relatively cheaper costs.