Makerere University has signed a Memorandum of Understanding (MoU) with the Human Resource Management Association of Uganda (HRMAU) to train prospective managers and ring fence their professional conduct in the country.
While signing an MoU on Wednesday 12th July, 2023, the Vice Chancellor, Prof. Barnabas Nawangwe appreciated the initiative pioneered by the College of Business and Management Sciences (CoBAMS) and said this will help the institution to produce competent human resource professionals.
"The fourth strategic goal of Makerere is to make the University a professionally managed institution. And when we talk of management, of course, the first thing is Human Resource Management. Any organisation will succeed to the extent that Human Resource is managed well. If we don't manage it well, the production will be low," he said.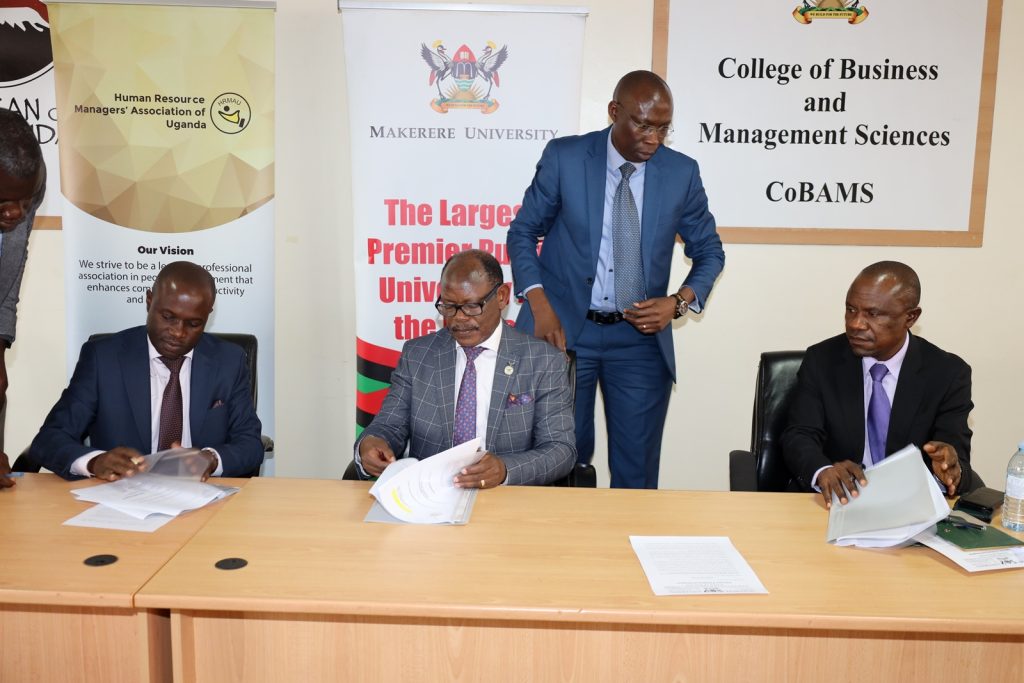 He noted, that Human Resource is a very important factor in the success of Makerere University and Uganda at large. "The most delicate and important resource is on this hill and it must be managed well. But even then, they must train other human resource managers who are going to manage the Human Resource around the country. I hope you will be able to train us as managers at Makerere," Prof. Nawangwe requested.
Mr. Ronald Bbosa, HRMAU President revealed their work plan embedded in this MoU saying, "We are entering into partnership with Makerere on issues to do with research, supporting students through internship, having innovative human resource solutions that will be able to uplift the profile not only of our practice as HR practitioners, but also to make students more marketable out there whenever we interact with them as prospective employees."
According to him, HRMAU brings together more than 1,200 professionals of the top organisations in the country that employ the biggest number of people.
Mr. Bbosa said the starting point in moving a country to the next level is to make sure there is ring fencing of professionals with ethics such that they do their work without any kind of interruptions.
He asked the legislators in Parliament to approve their proposed bill intended to regulate the operation of their work reasoning that this will create avenues to achieve all that is expected from HR professionals, and acting as a stepping stone that will enable managers to uplift the National Development Goals.
"We are collaborating in areas of research in HRM on those aspects that we think can help the country to achieve the National Development Goals. It is in our interest as the country that we move in the direction of recognising professional associations and making sure they are governed by Acts of Parliament such that we bring forth the ethical and moral conduct that is required to drive professionalism in the country and deal with some of the challenges that we face as a country today like corruption," he explained.
Dr. Seferia Bwadene Wanyama, a lecturer of Human Resource Management said this MoU is intended to bring professionalism in academics.
"We are going to collaborate with the association to develop programmes that are industry related and relevant and also collaborate in areas of research on practical aspects that concern the industry and the profession of HR. We intend to bring practitioners from the industry of work through the association to complement our efforts in delivering programmes that are practically oriented," he said.