1819 STUDENTS AWARDED AT 73RD GRADUATION CEREMONY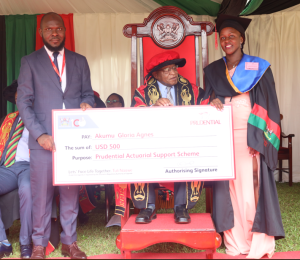 It was merrymaking at the Freedom Square as 1,819 students of the College of Business and Management Sciences received PhDs, masters and undergraduate degrees on the third day of the 73rd graduation, February 15, 2023. Of these, 891 are male while 928 are female. The college graduated 3 PhDs, 376 Masters students, 11 post graduate diplomas and 1429 undergraduate students.
During the celebrations, one of our partners, Prudential Uganda, rewarded the best 5 performing students from the Bachelor of Science in Actuarial Science with USD500 and a professional study scholarship. The students recognized include Nanfuka Rebecca Rosette with 4.55, Mukiibi Cyrus with 4.15, Angura Kupa Abraham
with 4.02, Mwesigwa Mark Lewis 4.00 and
Akumu Gloria Agnes 3.99.
One students of the college under the MasterCard Foundations scholarship received an award for exceptional performance. Nanyunja Fatumah, with a Bachelor of Business Administration got a first class degree and was awarded a plaque in recognition of her excellent performance. Follow more on the story through the link COBAMS GRADUATION FEB 15, 2023