The first phase of construction of the Makerere University Innovations Hub has been completed and inspected by the management of the university and UNDP, the funding agency.
The inspection of the magnificent space took place on July 25, 2023 amidst whispers of admiration at Yusuf Lule Central Teaching Facilty.
The beautifully painted walls will be accommodating different innovation studios including two Computer Aided Design rooms, textile room, CNC machine room, electronic room, fabrication room, 3D printing, and a creative room which will accommodate photography, videography and music. The design and construction of the space is being handled by Vodo SESAME Solutions.
Speaking during the inspection, Prof. Eria Hisali, who represented the Vice Chancellor, said the innovation hub is a welcome development because there is need to increase innovation, because the country lies low at the Global Innovation Index.
In 2022, the global innovation index put Uganda at 119th out of 132 countries that were ranked. He made mention of the need to register patents in order to protect our intellectual property and called on innovators to utilize the intellectual property office of the university, also housed at CFT2.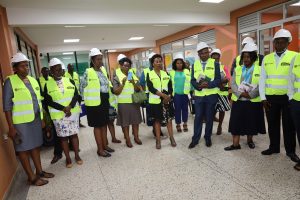 Prof. Hisali appreciated UNDP for the support towards the construction and equipping of the innovations hub. "There are many innovative ideas among students and the community which need nurturing which the hub will do," he said.
Ms Sheila Ngatia, the Deputy Resident Representative of UNDP thanked the contractor, saying it was exciting to see the innovation hub initiative spread out in different countries.
"We made a strategic decision to support African institutions of higher learning to propel then and harness creativity and innovation," she said. UNDP is also funding the ICT hub in Nakawa in its effort to grow innovation and development of the country.