Over 120 students under the School of Economics at the College of Business and Management Sciences (CoBAMS) and the Environment for Development Project (EfD) have donated 800 umbrella tree seedlings to Kiboga District.
While handing over the tree seedlings to Kiboga District officials at the district headquarters on Thursday (September 21, 2013), Dr. John Sseruyange, the lecturer who led the students said they started this program last year and the intention is to increase Uganda's forest cover.
"According to the statistics, in 1995, Uganda had only 25 percent of forest cover and this reduced to nine perfect in 2015 which is a big gap to bridge. We therefore encourage students to participate whole-hearted," he said.
He revealed that the project is student-led and the college just comes in to top up on what students have contributed to buy these trees.
The participants are students of BA Economics and MA Economics who put what they study into practice as they strive for a greener Uganda.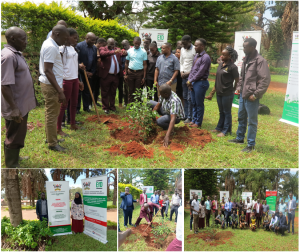 Mr Hillary Ainebyoona, the student team leader who mobilized students towards this program said the trees are the lungs of the earth and much effort is needed to preserve and restore the eco-system.
"We need cleaner oxygen for breathing and the only way to achieve this, is to plant trees. If we all spread this to our families and friends, in a few years, there will be some change," he noted.
He called upon other institutions to pick a leaf and work with Makerere University towards the same cause of restoring the environment.
He noted that each student contributed some money in addition to the college and EfD centre to purchase the umbrella trees.
Dr. John Sseruyange revealed that this is their second time giving out these tree seedlings and that the first donation was made last year to Mpigi District.
"If we teach the young generation about planting trees, we shall fully restore the formerly depleted forests. We donated over 700 tree seedlings last year, and now 800 tree seedlings and we hope to donate in parts of Western Uganda next year," he noted.
With increasing encroachment on gazetted forests and wetlands, various nature loving organisations have risen to address the issue as they spread the gospel of conserving biodiversity.
Dr. Sseruyange said the charity started from the nearby districts due to insufficient funds. "Having just started the program, we first considered districts which are near due to transport costs."
Canon Edward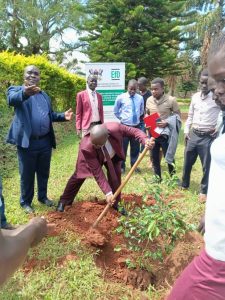 Musingye, the Chief Administrative Officer (CAO)of Kiboga district encouraged other institutions to emulate the gesture portrayed by Makerere University students.
"I want to thank you for picking the little upkeep you receive. Don't stop on this, keep the spirit and the world will never be the same. Let's keep working together and ensure that this world is a better place to live," he remarked.
Mr Ivan Male, the Assistant Forest Officer in the district said they are going to distribute the seedlings to different government facilities including schools, public roads, and the health facilities.
"As Kiboga District, we are really facing challenges of global warming. There's change in seasons. We find that drought extends into months we expect rainfall. If tree planting is continued with in other places, it will help us to bridge that gap and help us to restore and regain the forests we lost." He said.
Mr Male noted that trees give people life on earth and urged everyone to plant at least one tree in their homes and societies they live.
Ms Gloria Chebet, a student at CoBAMS who was part of the team hopes to build up her career curriculum vitae and as well champion the restoration of the environment to mitigate climate change through this program.
She recalled that it was during class when the lecturer encouraged them to restore forest cover due to the increasing population.