Makerere University has launched plans to promote persons with disabilities (PWDs) with special skills in Kampala Metropolitan area.
The Shs45,797,244 initiative is being funded by the Royal Academy of Engineering, to improve their daily incomes as well as elevate their living standards. While commissioning the needs assessment campaign at Makerere University on Friday, Ms. Patience Kaitesi, Rehabilitation Officer at the Ministry of Gender and Social Justice said with this project, there will be harnessing of hidden talents and skills for PWDs and the goal is to help their product penetrate the market.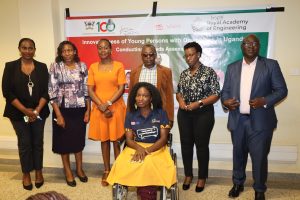 Right to Left: Mr. Apollo Muyanja Mbaziira, Ms. Patience Kaitesi, Mr. John Chris Ninsiima, Mrs. Winifred Kabumbuli, Dr. Cathy Mbidde, Ms. Berna Mugema and Ms. Victo Nalule (Seated) at the launch.
"I am happy that Makerere is embracing innovations for people with disabilities. Let's appreciate what PWDs do and develop them in their respective innovations."
She asked the innovators to provide tremendous support in what the disabled may need. "Move with those people and help them to get customers for their products through those apps we are coming up with," she added.
The project launched under the theme; Leaving no one behind, will be coordinated through district unions and councilors representing PWDs to mobilise all persons with disabilities in Kampala, Wakiso, Mukono and Mpigi, to get to know about the initiative.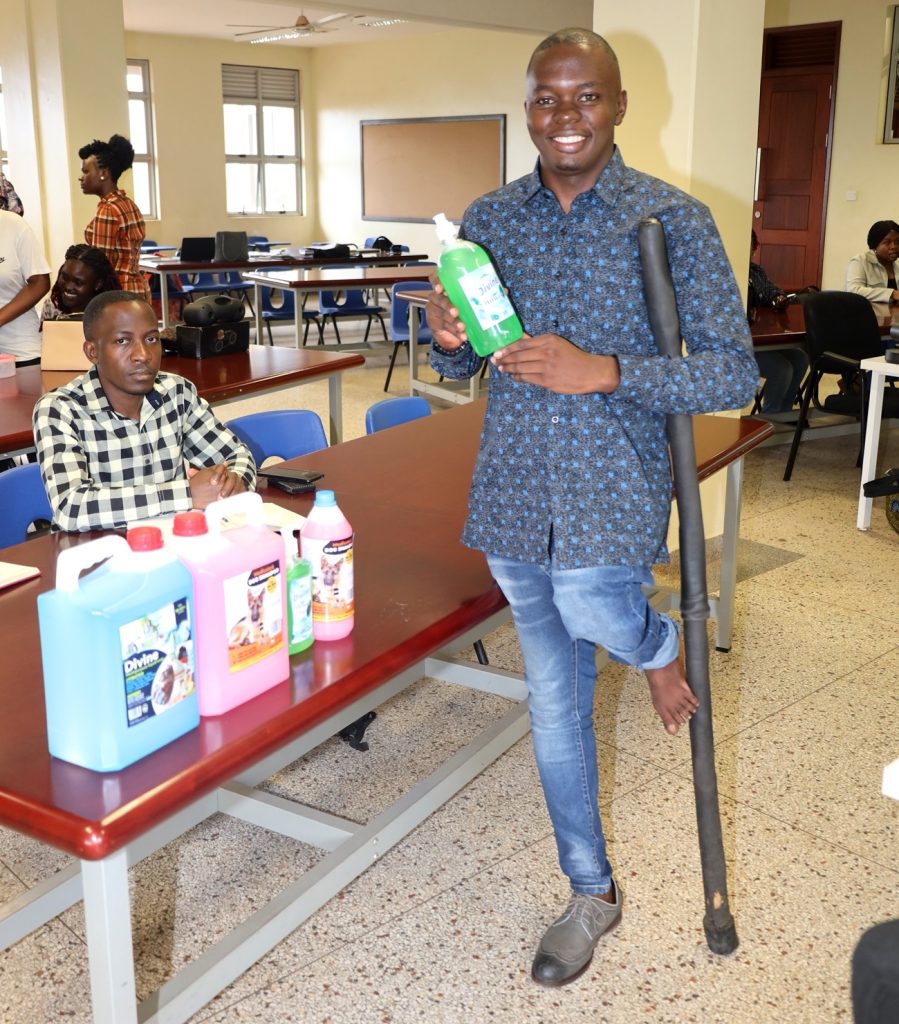 Mrs. Winifred Kabumbuli, the Dean of Students at Makerere University, who represented the Vice Chancellor at the launch of the project encouraged the nominated persons with disabilities to seize this opportunity, embrace their talents, and let their innovation shine. "Your contributions have the power to reshape perceptions, break barriers and transform lives. Together, we can create a society that truly values and harnesses the potential of all individuals," she said.
She said through such research projects, the university endeavours to create an inclusive environment that encourages these talented young minds to think outside the box, push boundaries, and develop ground breaking solutions that address the challenges they face daily.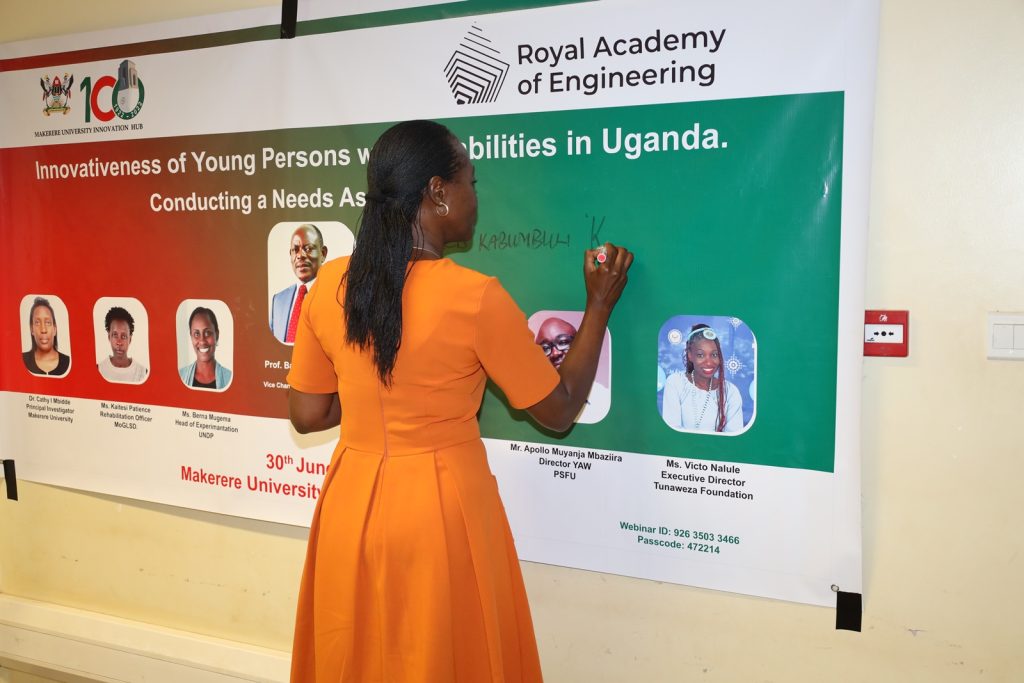 She appreciated the Royal Academy of Engineering for the support to the project and also thanked the Director of the Innovations Hub, Dr. Cathy Mbidde for the opportunity she has given to the young innovators.
Dr. Mbidde said the project aims at identifying young persons with disabilities engaged in creating innovative business (Products/services), identifying stakeholders that can provide support or opportunities to IYPWDs and also create a platform for IYPWDs to share experiences and tap into opportunities.
Mr. Apollo Muyanja Mbaziira, the Director Private Sector Foundation Uganda, said PWDs have the capacity to do everything provided they are being given support.
"They have the potential because we have seen them engage in politics. We just need to create awareness for them and identify what they need. "
He said plans are underway to ensure all of them (PWDs) get access to digital platforms that can link them to markets. "Social economic empowerment of persons with disabilities is what we all need to reach at," he said.
In Uganda, 8.5 percent of the population have a disability. Young persons with disabilities face enormous challenges in accessing resources, leaving a decent life and exploiting opportunities. Yet these people have huge unexploited potential of unique talents and skills that drive creativity and innovation.