Prof. Edward Bbbaale, has today January 16, 2023 handed over deanship of the School of Economics to Prof. Ibrahim Okumu Mike. This follows Prof. Bbaale's appointment as the Director of the Directorate of Research and Graduate Training. The handover was done at a ceremony witnessed by members of staff, Human Resources Manager, a representative from Internal Audit and the deputy Principal of COBAMS.
While handing over, Prof. Bbaale thanked the members of staff for the support offered to him during his tenure of 8 years. He especially thanked the Head of Departments, the internship and examination coordinators for the support rendered to him. Over the last 8 years, the school has registered several achievements which include growth in enrollment, improvement in teaching and learning, research and publications as well as building partnerships and collaborations.
The school has since installed white boards in all classes to replace the traditional chalk boards. The school also procured some ICT equipment for its staff. The school successfully reviewed all its programs and also introduced two new graduate programs; MSc investment and Econimic Modelling and Msc. In Development Economics. The school, as noted by the outgoing dean has maintained a good culture of research and publications.
The outgoing dean pointed out some challenges that need to be addressed. These include limited lecture and office space, limited finances, limited number of professors, the low propensity of staff to conduct graduate teaching, non-functional computer laboratories, increased examination malpractice among students and the low completion rates especially among graduate students. "Addressing these challenges requires concerted efforts from all of us academic, administrative and support staff," Prof. Bbaale said.
In his acceptance speech, Prof. Okumu said he hopes to enhance the research output of the school. "The zeal to deliver is there," he emphasized. He shared his plans for the school which included building international relationships in an effort to start international reviews of Masters and PhD thesis, improving web presence of all staff members, grow the numbers of collaborations and starting of a mentorship program for graduate students.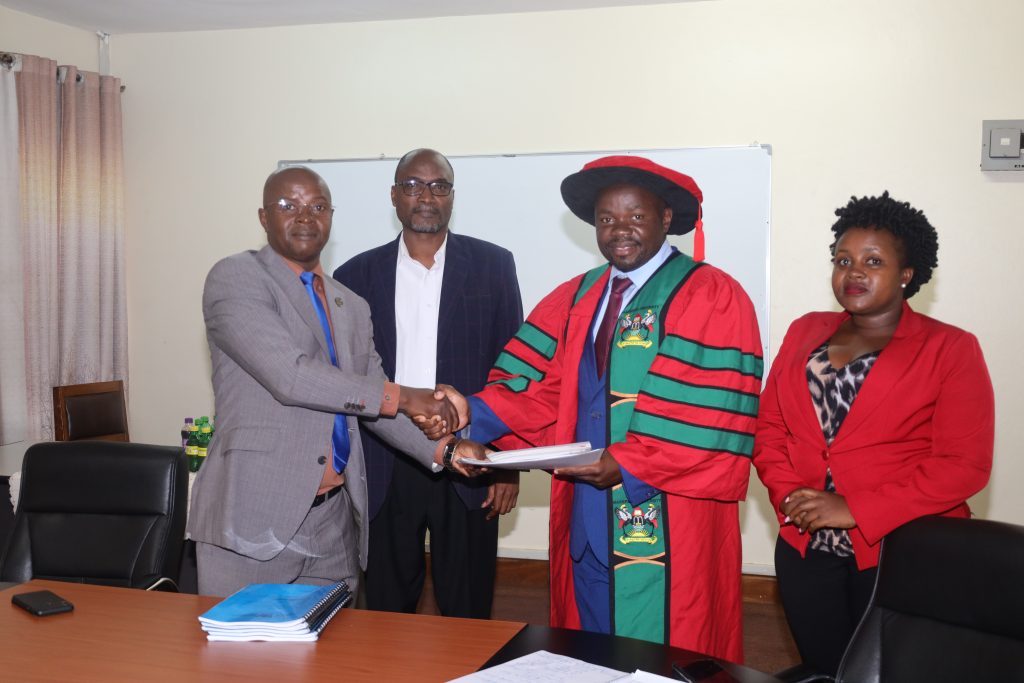 The Deputy Principal, Prof. Bruno Yawe, congratulated both professors upon their new appointments and wished them good service to the university. He pledged management's support to the new dean as well as Prof. Bbaale.