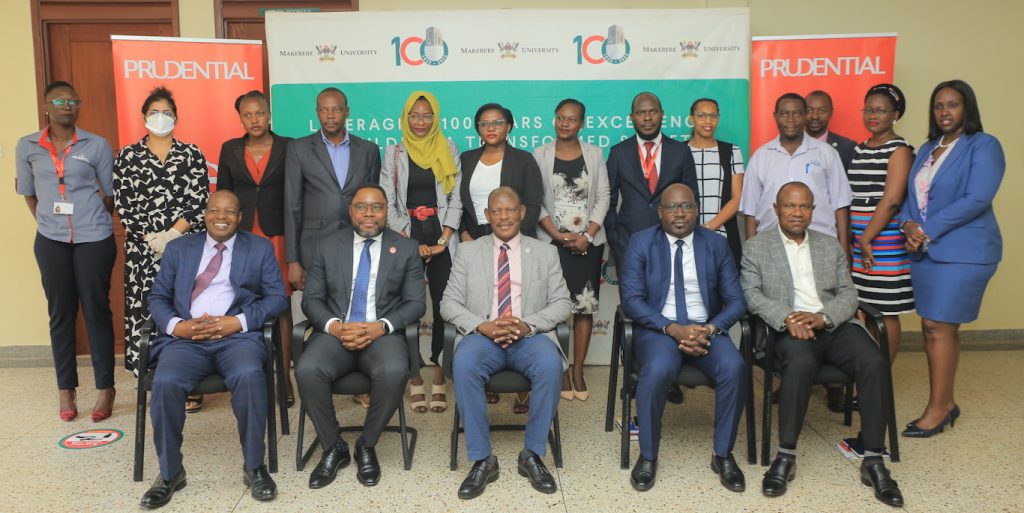 Makerere University and Prudential Assurance Uganda have today October 21th, 2022 signed a partnership to establish the "Prudential Actuarial Support Scheme" (PASS) at the college of Business and Management Sciences.
The Memorandum of Understanding was signed by Vice Chancellor Prof. Barnabas Nawangwe and Mr Tetteh Ayitevie, the CEO of Prudential Assurance.
This memorandum of understanding looks at the establishment of a scheme that looks to promote development of actuarial capacity through rewarding excellent students in actuarial science as well as supporting top graduate students with mentorship, internship opportunities and financial assistance to become certified actuaries at the College of Business and Management sciences (CoBAMS).
Each year one top student from Makerere University will be offered a one-year apprenticeship at Prudential and the top five students of Actuarial Science will each be rewarded with USD 500 upon graduation. Prudential will also cover the cost of all examinations written by the students.
Professor Eria Hisali the Principal College of Business and Management Sciences which is the beneficiary college highlighted that it is such another important day for the university for yet again to partner with prudential a few days after ACCA Global to boost training in the Bachelors of Commerce and Actuarial Sciences.
"The Choice of partnering with Prudential and ACCA Global speak to an initiative of quality assurance and our strategic focus set in place by CoBAMS to ensure standard and professionalism for our students". Said Professor Hisali who thanked Prudential Assurance Uganda for always thinking about Makerere University
Speaking during the launch, Mr. Tetteh Ayitevie, CEO- Prudential said "As a business, promoting professionalism within the industry is important. This program seeks to pave the path for graduates in actuarial science to sign up for professional affiliate programs as a way of deepening their knowledge of insurance from a business perspective".
Mr. Ayitevie added that by this partnership, a seed of transformation in the economic development of Uganda has been sown since the country is on the move evident by the steadily increasing uptake of Insurance as reported by the Insurance regulatory Authority (IRA) of Uganda.
Mr. Ivan Kilameri who represented the Chief Executive Director Insurance Regulatory Authority Uganda Al-Hajji Kaddunabi Lubega, said the PASS program is a timely endeavor, coming at a time when the insurance industry is noticing a rise in the demand for insurance financial services.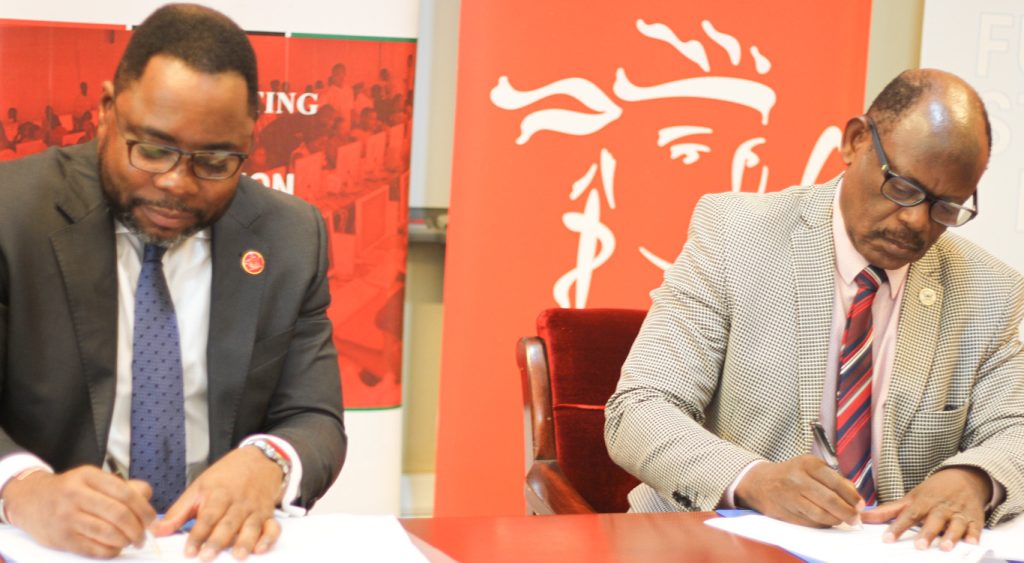 "Insurance is a vehicle through which people cultivate their financial security and cultivate their wealth and largely hinged on actuarial science. This program is timely and will go a long way in increasing the number of certified actuaries in the industry," concluded Mr. Kilameri.
Professor Barnabas Nawangwe the Vice Chancellor Makerere University, thanked Prudential for the initiative that will go a long way in making certification more attractive to students highlighting how tremendously Makerere has impacted the world in every discipline to an extent that every country in the world at least has a product from the "Ivory Tower".
Prof Nawangwe added that considering the experience Prudential has in insurance, he is convinced beyond measure that it will guide and mentor not only Makerere University students but also staff to improve their lives and careers at large.
The Prudential Actuarial Support Scheme (PASS) is a deliberate move by Prudential to contribute to the growth of Insurance Industry in Uganda and ensure that the sector has required resources to develop products that meet the needs of the customers.
This similar program by prudential is also run in Kenya and Ghana since 2014 and 2015 respectively and very intentional that due to this program, at least 25 actuarial students will be supported by 2027.