Makerere University has today, October 6, 2023, received a donation of an 86-inch interactive smart board/screen from Naechstenliebe, a German charity organization. The donation was made through Dr. John Bosco Nyanzi, a senior lecturer in the Department of Economic Theory and Analysis, College of Business and Management Sciences.   The smart board/screen is expected to enhance teaching and learning experiences at Makerere University by providing a more interactive and engaging platform for students and lecturers. This generous donation reflects Dr. Nyanzi's commitment to improving education and technology access at his home institution. Naechstenliebe has pledged to support the teaching and learning infrastructure of Makerere University by donating 10 smart boards over a period of five years.
Speaking during the unveiling of the smart board at CoBAMS, the Deputy Vice Chancellor (Academic Affairs), Prof. Umar Kakumba thanked Dr. Nyanzi for his effort in mobilizing resources for the university. He said the smart board will help in providing innovative teaching and learning a thing that fits well within the university's ICT strategy. Such equipment that promotes interactive learning, Prof. Kakumba said will help transform the university into a 21st Century university. Prof. Kakumba thanked Dr. Nyanzi for the donation and pledged management's support in mobilizing more such equipment. He also expressed his gratitude for Dr. Nyanzi's dedication to improving the educational experience at the university and emphasized the importance of continuous collaboration between faculty and donors to ensure the university's growth and development. Prof. Kakumba concluded by stating that with the addition of the smart board, the university is one step closer to achieving its goal of becoming a leading institution in innovative education.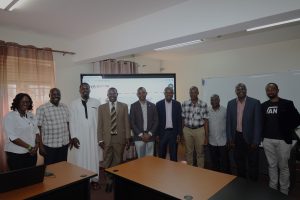 In his remarks, Prof. Eria Hisali, the Principal of CoBAMS, said the smart board will improve PhD and Masters training. He said the donation comes at an opportune time when the university is transitioning into blended learning and learner-centered pedagogy.
Prof. Hisali emphasized that the smart board will enhance the interactive and collaborative learning experience for postgraduate students, enabling them to engage more actively in their research and coursework. He also highlighted that the integration of technology in teaching aligns with the university's commitment to providing quality education that meets the demands of a rapidly evolving global job market.
The director of IoDEL, Prof. Paul Muyinda, praised Dr. Nyanzi as well and said he is proof that faculty members can contribute to the growth of the organization. "We are because the institution is." Prof. Muyinda emphasized that Dr. Nyanzi's dedication and success as a faculty member demonstrates the importance of fostering a collaborative and supportive academic environment. He further expressed his belief that faculty members like Dr. Nyanzi play a crucial role in shaping the future of the institution and its ability to provide valuable opportunities for postgraduate students.